complimentaryAirport
Arrange Your Shuttle Pick Up
Once you've touched down and retrieved your luggage, please call the hotel at 407-826-5258 to request pick up. We will determine your location (Terminal A or B), direct you to the nearest shuttle pick up station, and dispatch a shuttle immediately. Normal wait time is 15 to 20 minutes; however, wait times may vary based on peak times and heavy traffic. Due to delays at baggage claim and TSA regulations prohibiting us from waiting for more than 5 minutes at our pick up space, we cannot preschedule the shuttle. Our shuttles are marked with our hotel logo, as well as the logo of our sister property, The Ramada Suites.
Arrange Your Shuttle Drop Off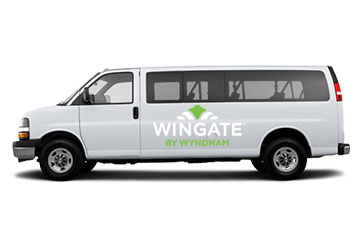 Our complimentary airport shuttle to MCO Airport departs every 30 minutes between 4:30 a.m. and 10 a.m., with two more runs at 11 a.m. and 12 p.m., and on-demand service from 12 p.m. until 1 a.m. Please sign up at the front desk at least two hours before your required hotel departure time to guarantee your seat on the shuttle. Still have questions? Please
contact our front desk
for additional information.